Some Tips for Self-Staging Your Toronto House
When potential home buyers are viewing a house for sale in Toronto, ON or elsewhere in Canada, they are doing what we were all told not to do when growing up: judging a book by its cover. Your house is like an open book and proper home staging can encourage the buyers to make the offer that meets your expectations.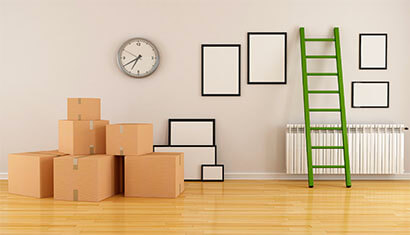 If a professional home stager is not included in your real estate contract, the tips below can help you with self-staging your house in Toronto, ON for faster sale.
Curb Appeal – Clean, sweep and powerwash the front entrance of your house. Landscape the garden, remove weeds, cut grass and trim edges to give your home a clean look. A fresh mat outside and a pot of bright flowers will freshen up the entryway too.
Declutter – Pack all your personal belongings, such as: family pictures, collectible items, trinkets and all dust collectors. Minimize your furniture – fewer items in a room actually make the room look bigger. And don't forget the closets!
Storage and Sell – If you're not sure what to do with all your stuff, you can rent a storage space in Toronto for your boxes and large items. Many Toronto storage providers will rent on a month-to-month basis. Have a garage sale for all the unwanted items.
Paint and Touch Up – Patch-up cracks or holes in the walls, refresh the walls with a quick layer of paint. Think beige, taupe, white or pale blue, as rooms painted in light colours are calming on the eyes.
Brighten Up – Mirrors on the walls give the perception of a longer or wider room. Keep the temperature of your house at a comfortable level. Clean your windows to offer a clear view and a subtle hint of cleanliness. Open windows to air out any stuffiness.
Fresh scents – Fresh flowers on the dining room table or a single flower in a vase for the bathroom. Flowers give an elegant touch to any room. If you like to bake, feel free to indulge now. Everyone loves the smell of fresh baking. If baking's not your thing, try this pro tip: boiling cinnamon in a pot gives a homemade pleasant smell.
Clean, clean, and clean – Once rooms are decluttered it will be easy to keep up with the cleaning. Make it your daily routine to dust, vacuum, and mop floors. Clear plates and cups, wipe down sinks, the fridge and cabinet doors. Entryways should be clutter free. Hang jackets, put bags and shoes away.
Remember that a first impression is important and memorable, and might be the only chance you get to impress a buyer.
About Viktoria Van Lines Toronto
Viktoria Van Lines Toronto is a professional Toronto moving and storage company, providing high quality local and long distance moving services throughout the GTA, Southern Ontario and across Canada. Thanks to our country-wide network we are also able to service our clients' long distance moving needs throughout Canada.
Call Viktoria Van Lines Toronto (647) 344-1554 or Toll Free: 1 ( 877) 399-1315 for a FREE Consultation in regards to your residential or commercial / office moving needs to and from Toronto, the GTA and across Canada.